Page 270 - B-ALL 28 eng
P. 270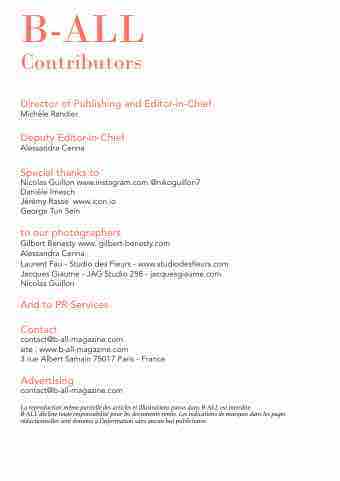 B-ALL Contributors
Director of Publishing and Editor-in-Chief
Michèle Randier
Deputy Editor-in-Chief
Alessandra Cenna
Special thanks to
Nicolas Guillon www.instagram.com @nikoguillon7 Danièle Imesch
Jérémy Rasse www.icon.io
George Tun Sein
to our photographers
Gilbert Benesty www. gilbert-benesty.com
Alessandra Cenna
Laurent Fau - Studio des Fleurs - www.studiodesfleurs.com Jacques Giaume - JAG Studio 258 - jacquesgiaume.com Nicolas Guillon
And to PR Services
Contact
contact@b-all-magazine.com
site : www.b-all-magazine.com
3 rue Albert Samain 75017 Paris - France
Advertising
contact@b-all-magazine.com
La reproduction même partielle des articles et illustrations parus dans B-ALL est interdite.
B-ALL décline toute responsabilité pour les documents remis. Les indications de marques dans les pages rédactionnelles sont données à l'information sans aucun but publicitaire.