Page 166 - B-ALL#32 FR
P. 166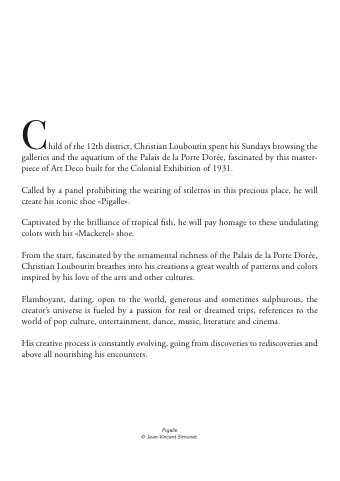 Child of the 12th district, Christian Louboutin spent his Sundays browsing the galleries and the aquarium of the Palais de la Porte Dorée, fascinated by this master- piece of Art Deco built for the Colonial Exhibition of 1931.
Called by a panel prohibiting the wearing of stilettos in this precious place, he will create his iconic shoe «Pigalle».
Captivated by the brilliance of tropical fish, he will pay homage to these undulating colors with his «Mackerel» shoe.
From the start, fascinated by the ornamental richness of the Palais de la Porte Dorée, Christian Louboutin breathes into his creations a great wealth of patterns and colors inspired by his love of the arts and other cultures.
Flamboyant, daring, open to the world, generous and sometimes sulphurous, the creator's universe is fueled by a passion for real or dreamed trips, references to the world of pop culture, entertainment, dance, music, literature and cinema.
His creative process is constantly evolving, going from discoveries to rediscoveries and above all nourishing his encounters.
Pigalle
© Jean-Vincent Simonet.